May Beer Club – $15 Sampling – Ciders and Women Brewers!
Tue, May 17 @ 7:00 pm

-

8:30 pm

$15.00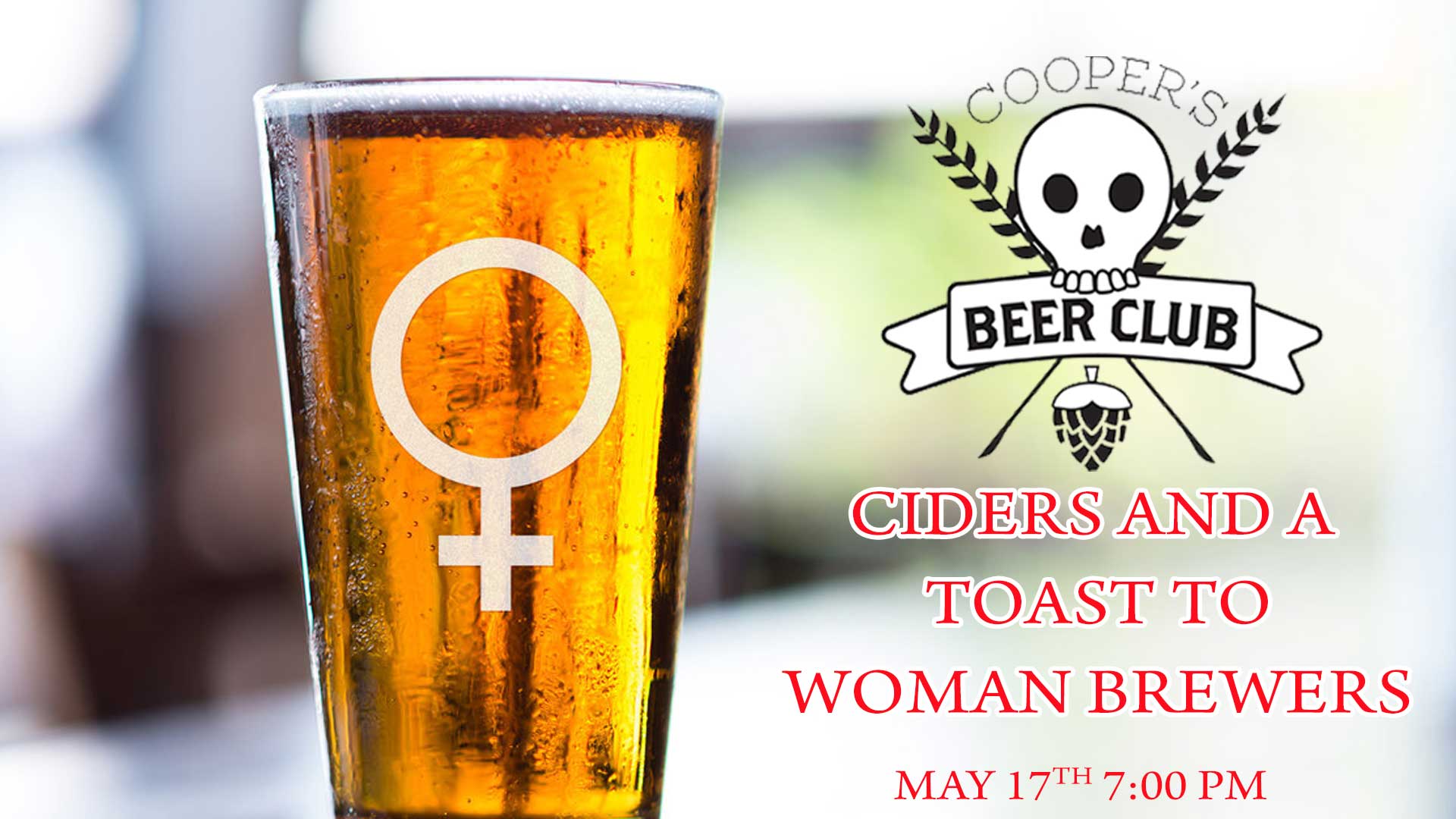 May Beer Club – Original Sin – A toast to Ciders and Women Brewers!
Just like Eve tempted Adam with an apple, your friends at Coopers Beer Club will also be tempting you with an Apple and amazing Women. We will be tempting the beer club with some amazing hard ciders, learning about the important role that hard cider played in American history, and celebrating some absolutely amazing women brewers and the fine liquids that they are creating.
Beer club will be held Tuesday, May 17th starting at 7 PM. Tickets are $15 and it is strongly encouraged that you purchase them ahead of time, tickets at the door cannot be guaranteed.
HAVE FUN AND MAKE SOME NEW FRIENDS WHO SHARE A DESIRE TO LEARN MORE ABOUT CRAFT BEERS.
WHAT IS COOPER'S BEER CLUB?
The purpose of Beer Club is to further your appreciation of Craft Beers. Enjoy and discuss quality Craft Beers with a variety of special guests, each with expert knowledge of the evening's theme. Some events have special food parings are available that complement the evening's beer choices.   Each hour / two-hour-long Craft Beer School is held at Cooper's in Scranton,  701 N. Washington Ave. Beer Club begins at 7:00pm; doors open at 6:00pm.
WHEN DOES BEER CLUB MEET?
Beer Club meets the third Tuesday of every month at Cooper's in Scranton.  Beer Club begins at 7:00 pm; the bar opens at 5:00 pm.
HOW DO I JOIN BEER CLUB?
There are no dues or membership fees. Beer Club is open to the public.
Events are priced individually and tickets can be purchased HERE  or at the door on the night of the event.
Related Events